Fab Orlando Outstanding resource site for Orlando Florida. Rental properties and more.




MERCHANDISE USA, INC Your one-stop source for CLOSEOUTS on redemption items, prizes, toys, plush, and much, more. All below regular wholesale price, perfect for amusement and theme parks!
Chicago, Il 60616
Fax: (312) 791-0085




NERO: a live action fantasy medieval game, where hundreds of people wear costumes, battle monsters, engage in court politics, and live out their gaming fantasies.




The Dynamic Music Store Home of GREAT Band Organ recordings by Dave Kaspersin of Dynamic Recording and Merrick Price of Seabreeze Park in Rochester N. Y.




Carousel Classifieds Antique carousel figures and related collectibles on the Internet.




The Wooden Horse Studio Your source for, one of a kind decorator and gift items. Carousel Horses are hand carved at the studio, ScroolSaw and Fretwork items also available.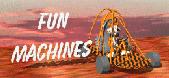 Fun Machines A large selection of Fun Karts, Fun Kars and Mini Bikes. Our Fun Machines are a great source of Outdoor Recreation!




CyberBath! Inside this catalogue you will find the most comprehensive collection of luxury fixtures for the bathroom and kitchen available anywhere at UNBEATABLE prices.





Your ad in this section will automatically be placed at the top of this page. The cost of this ad and link is $30 for 3 months / $100 per year. Just email a short description and send a check to WEBways, Inc. 363 Deer Drive Langhorne, PA 19047




[Advertising Information]




---
Copyright © 1996-2005 WEBways, Inc. All rights Reserved
Langhorne, PA 19047
Webmaster


WEBways, Inc. is not responsible for the accuracy of any information presented in the listings or claims made by the organizations and advertisers in Funguide.